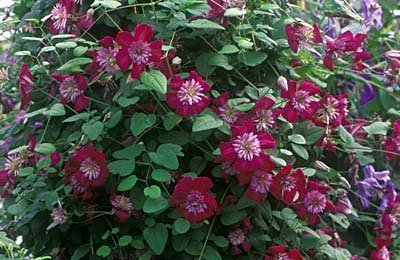 Avant-Garde
Type: Viticella
Height: 8 to 10 feet
Blooms: Summer
Pruning: Full Prune
Zone: 4
Tiny, two-toned blooms make this clematis a standout!
Imagine Avant-Garde grown through a dark-leafed shrub or paired with
the ever-elegant Comtesse de Bouchaud.

Avant-Garde can be quite slow to start, so be prepared to be patient!
Hummingbird Farm
Cindy Tibbetts
202 Bean Street Turner, Maine 04282
(207) 224-8220 hummingbird@megalink.net
We'd Love to Hear From You!