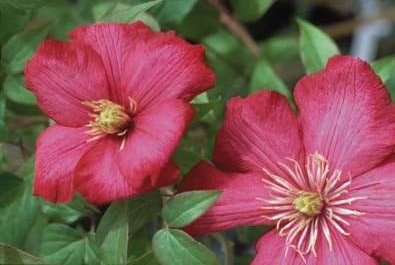 Ville de Lyon
Type: Late Flowering
Height: 10 to 12 feet
Blooms: Summer
Pruning: Full Prune
Zone: 4
Ville de Lyon is not the most prolific bloomer we carry.
However, the flowers are so stunning that - well, too many
of them might blind us all! If you are looking for
show-stopping color, consider this one!
Carmine red flowers that fade with age
on plants that bloom through the late summer and fall.
Hummingbird Farm
Cindy Tibbetts
202 Bean Street Turner, Maine 04282
(207) 224-8220 hummingbird@megalink.net
We'd Love to Hear From You!