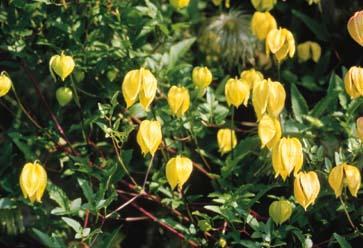 Tangutica
Type: Species
Height: Up to 20 feet
Blooms: Summer
Pruning: Full Prune
Zone: 3
A Yellow Clematis? You bet!
Rare color and exceptional vigor make Tangutica a keeper.
Remember - she gets really tall, so be prepared!
Make sure Tangutica has full sun and good drainage -
she doesn't like "wet feet" during the winter!
Hummingbird Farm
Cindy Tibbetts
202 Bean Street Turner, Maine 04282
(207) 224-8220 hummingbird@megalink.net
We'd Love to Hear From You!