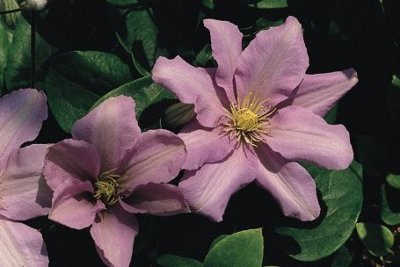 Silver Moon
Sold Out!
Substitute Elsa Spath
Type: Early Flowering
Height: 8 to 10 feet
Blooms: Spring and Fall
Pruning: Don't Bother
Zone: 4
Silver Moon blooms in more shade than any other clematis we've grown.
With as little as two hours of direct sun, it flowers reliably for us.
Silver Moon is difficult to photograph!
This picture comes close to capturing its silvery-lavender color.
Hummingbird Farm
Cindy Tibbetts
202 Bean Street Turner, Maine 04282
(207) 224-8220 hummingbird@megalink.net
We'd Love to Hear From You!