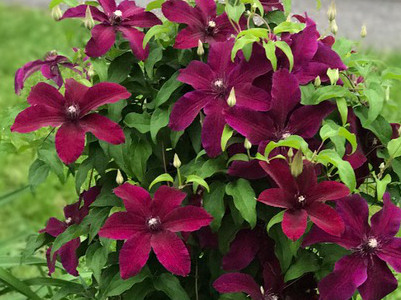 Ruutel
Sold Out!
Type: Kivistik
Height: Up to 6 feet
Blooms: Summer
Pruning: Full Prune
Zone: 3
Ruutel's color varies from year to year, depending on the age of the plant,
temperature and how much sun it gets. It can be hot, hot pink, dark red or
shades in between. How interesting!
Remember -
although Kivistik clematis are technically Full Prune,
they usually die back to the ground in the winter,
so all you have to do is clean up the dead stems.
How easy is that!?!
Hummingbird Farm
Cindy Tibbetts
202 Bean Street Turner, Maine 04282
(207) 224-8220 hummingbird@megalink.net
We'd Love to Hear From You!