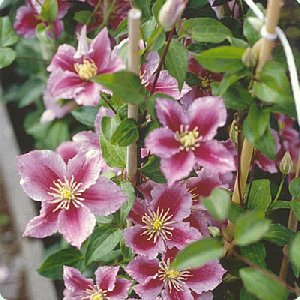 Piilu
A.K.A. 'Little Duckling'
Sold Out!
Type: Kivistik
Height: Up to 4 feet
Blooms: Summer and Fall
Pruning: Full Prune
Zone: 4
Small, even among the Kivistik varieties,
Piilu fits nicely on a fence post,
on your mailbox or in a large container.
You will often see photos of Piilu with double blooms.
Double flowers on Piilu are very rare. We saw one. Once.
Don't be fooled into expecting them on a regular basis!
Hummingbird Farm
Cindy Tibbetts
202 Bean Street Turner, Maine 04282
(207) 224-8220 hummingbird@megalink.net
We'd Love to Hear From You!