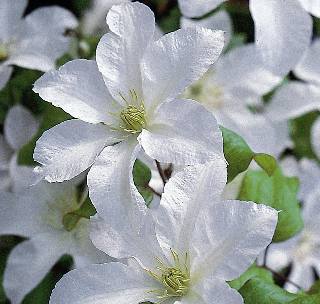 John Huxtable
Sold Out!
Type: Late Flowering
Height: 8 to 10 feet
Blooms: Summer
Pruning: Full Prune
Zone: 4
John Huxtable is one of very few white, late flowering with large flowers.
If Huldine is too big for your yard, John Huxtable is the guy for you!
John Huxtable is a seedling of Comtesse de Bouchaud.
Wouldn't they look great together???
Hummingbird Farm
Cindy Tibbetts
202 Bean Street Turner, Maine 04282
(207) 224-8220 hummingbird@megalink.net
We'd Love to Hear From You!