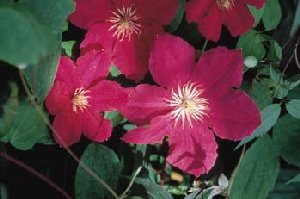 Ernest Markham
Sold Out!
Type: Late Flowering
Height: 10 to 15 feet
Blooms: Summer
Pruning: Full Prune
Zone: 4
Looking for a BIG clematis? One that can scale tall
buildings in a single bound? Look no further!
At 10 to 15 feet tall, Ernest is a bruiser!
Dark pink/red flowers adorn vigorous vines through the summer.
Hummingbird Farm
Cindy Tibbetts
202 Bean Street Turner, Maine 04282
(207) 224-8220 hummingbird@megalink.net
We'd Love to Hear From You!